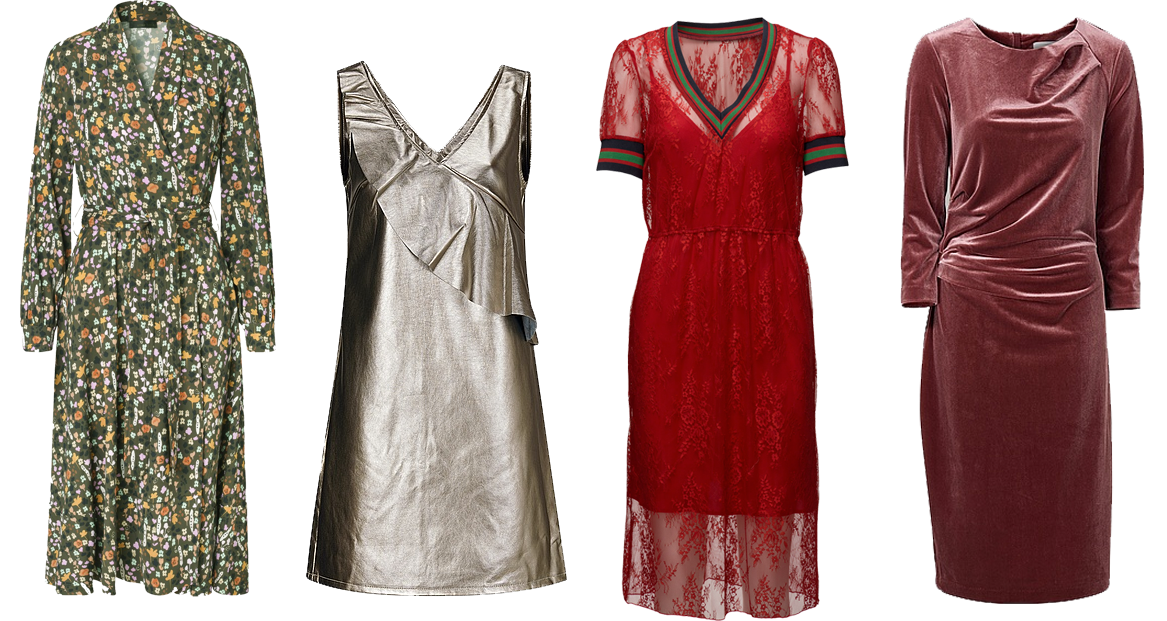 this post containt affiliate link which are all marked with a *
GREEN PRINT DRESS: STINE GOYA*, SILVER DRESS: VILA*, RED LACE DRESS: BAUM UND PFERDGARTEN*, PINK VELVET DRESS: INWEAR*
Det er gået op for mig at jeg hverken har nogen outfit-plan for julefrokoster, juleaften eller nytår. Ups. Så jeg sad lige forleden og gennemgik en håndfuld webshops for pæne festkjoler, som jeg gerne ville have på. Mest for inspiration – jeg ved nemlig ikke om budgettet kan holde til kjoleindkøb, selvom det ville være dejligt.
For eksempel ville det være skide skønt at kunne hoppe i den her sindssygt flotte grafiske 2nd Day sag*, måske lige med en rullekrave under nu det er koldt – og så kan den jo komme ud igen, når det bliver sommer. En lækker, løs velour-ting som den her* er også så utroligt adækvat til sæsonen og den her vilde gulddrøm til nytår*, hva! Men det gik op for mig, da jeg researchede – jeg ejer jo faktisk allerede den her Goya-kjole* som I nok også spottede i min roomtour! Så er det bare med at style den med et par varme nylonstrømper og lidt glimmer på øjenlågene, måske? 1 outfit down, yes!
Ved I hvad I skal have på til julefrokosterne og jul og nytår? Lidt inspiration er super velkomment i kommentarfeltet! Og hvilken af de fine festkjoler har I et godt øje til?
Forresten, så blev vinderen af den skønne katte-kop Sanne, som skal drikke kvæde-te af koppen sammen med sin kat, mens hun skriver SRP. Du får en mail fra mig senere i dag, Sanne 🙂
1: VILA*, 2: HERE*, 3: ELLOS*, 4: STOM & MARIE*, 5: STINE GOYA(on sale)*, 6: SAMSØE & SAMSØE*, 7: DAY(on sale)*, 8: DENIM & SUPPLY*, 9: WAL G*, 10: TWIST & TANGO*, 11: MONKI*, 12: STINE GOYA(on sale)*, 13: HERE*, 14: BANANA REPUBLIC*, 15: MARIMEKKO(on sale)*, 16: 2ND DAY(on sale)*, 17: BAUM UND PFERDGARTEN(on sale)*, 18: PIECES,* 19: OH MY LOVE*, 20: & OTHER STORIES*