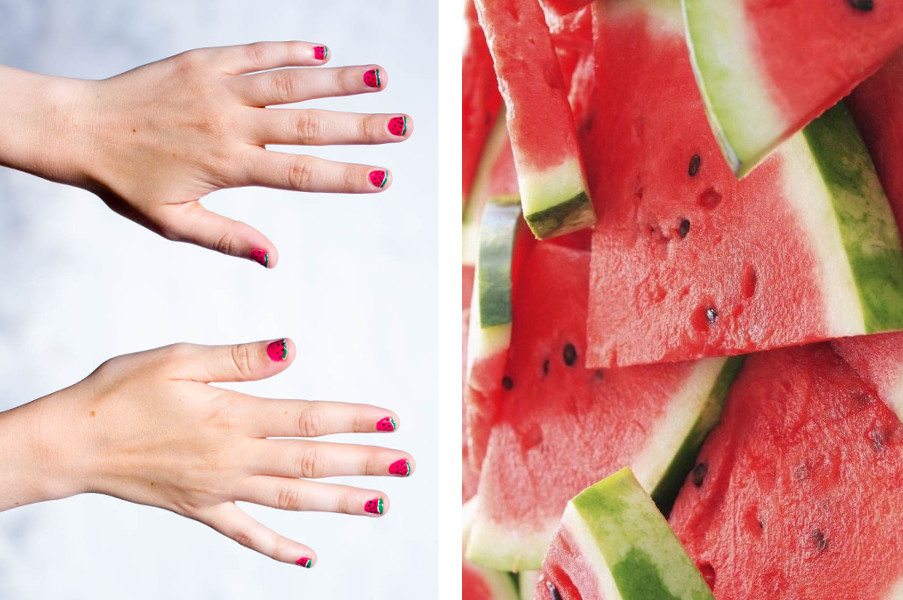 Eftersom sommeren bringer så mange skønne farver og friske frugter, er jeg blevet inspireret til at smække de to ting sammen og bruge vandmelonen som model for mine negle.
Vil du også have smækre vandmeloner på neglene – her kommer en hurtig guide:
Du skal bruge: 
Neglelakker i en rød/pink nuance, hvid, grøn og sort
Tandstikker
Vatpinde og neglelaksfjerner
1. Mal dine negle i den pink-rødlige nuance og lad dem tørre.
2. Læg en tyk streg af hvid neglelak på cirka 2 millimeter ved spidsen af neglen og lad den tørre.
3. Mal den yderste millimeter af din negl grøn(brug evt. en tandstik, som du dypper i neglelakskrukken og maler på neglene med). Der skal være en tynd streg af den hvide neglelak mellem den grønne streg og det røde område.
4. Dyp en ny tandstik i den sorte neglelak og lav små prikker på neglene – lad koncentrationen af prikkerne være størst ved spidsen af neglen og lad dem blive færre og færre op ad neglen.
5. Tag en vatpind dypper i neglelaksfjerner og fjern neglelakken der har ramt huden.
Værsartig – så har i bare at af komme i gang med at få lækre, friske sommernegle!
0