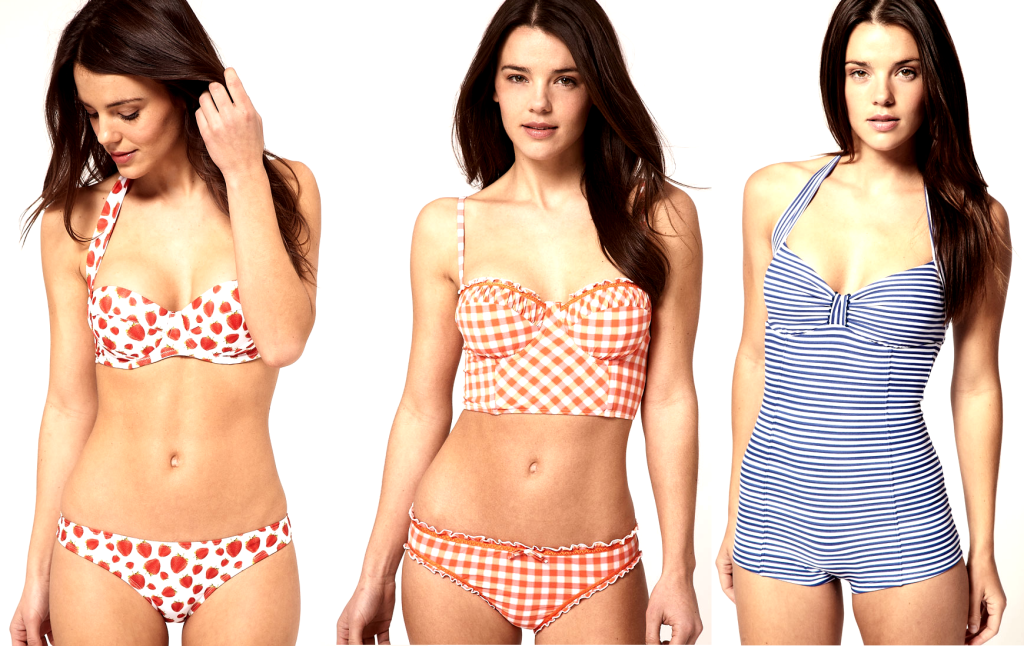 STRAWBERRY BIKINI: ASOS, ORANGE GINGHAM BIKINI: SEAFOLLY at ASOS, PIN STRIPE BATHINGSUIT: SEAFOLLY at ASOS.
Da jeg sad og surfede rundt på Asos forleden, faldt jeg over det her fine badetøj. Jeg er normelt slet ikke en pge, der går op i badetøj og ender derfor oftest op med et fesent sæt fra H&M som ender med at ligge dybt inde i skabet og blive glemt, men det skal laves om på nu! Jeg synes det er for sjældent man ser nogen, der prøvet at lave et statement eller et outfit ud af sit badetøj. Lige præcis det har jeg tænkt mig at gøre og  jeg har sat mig for hvilket tema mit badetøj gerne må have denne sommer… ikke overraskende er valget faldet på 50'erne! Jeg synes simpelthen det er så fint og så giver det også et lidt sødere indtryk end man ellers normalt ser mht. badetøj. Derudover er jeg også vild med at man kan bruge lige præcis den her slags badetøj som normalt tøj – især det orange sæt, som jeg er fuldstændig tosset med! Er det ikke fint? og hvilket slags badetøj går i efter denne sommmer?
When I was browsing Asos some days ago I found this gorgeous swimwear. I'm normally not much of a swimwear-minded girl and therefore I often end up with a boring suit from H&M that end up lying in the back of the closet, being forgotten. But that will stop now! I think that it's too seldom that you see someone making a statement or an outfit out of their swimsuit. I have decided to do just that this summer and I know which theme my swimwear should have: the 50's (not that surprising, huh?)! I think it looks so nice and it has a cuter expression than most swimwear you see these days. I also love the fact that the pieces can be used in daywear too, especially the top from that gorgeous orange suit, which I'm head over heels for! Isn't it nice? and which type of swimwear do you plan on going for this summer?