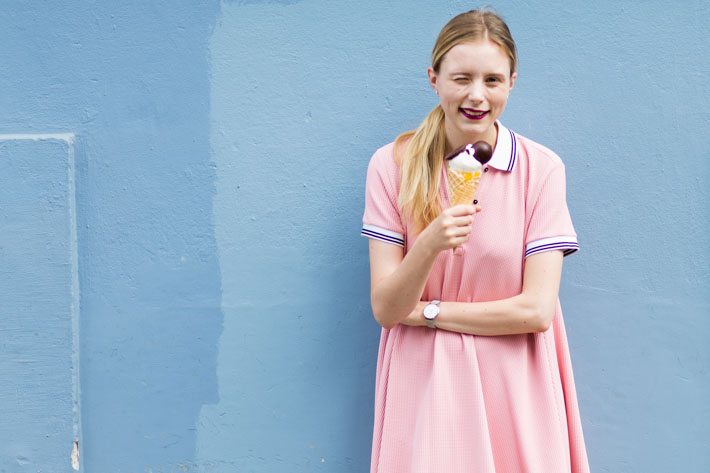 Just as last summer brought quite some change – both with my first vacations in the south in years and a move from Aalborg to Copenhagen, I feel like this summer with bring a change from one time in my life to an other. I'll probably do a post later this summer, when I know what changes it will bring.
But until then, here's a list of the things I've been thinking of doing this summer.
I want to learn Romanian. I still have a bit under two weeks left in Cluj before leaving, and with a language learning ability that's quite well developed, I plan to be able to have a conversation in Romanian before I leave. I already know how to say "I like what you're wearing" and "3 for 10 lei, great quality!".
I want to give stangers more complimenets. I see so many gorgeous and super cool people in the streets of copenhagen and I want to get it together to tell them how cool they look. Compliments never fail to lift your own and other people's moods.
I want to get more geeky with fashion again. After having gotten behind on checking collections on style.com the past year, I want to get back at it and do some inspiration research for future projects.
I want to do some f***ing awesome shoots in Transylvania. Staying with a good friend, who's a photographer and has the same idea of creativity and aesthetics as you is truly inspirational. Andrea and I already planned tons of great shoots!
I want to get in touch with people. After doing this video project, and planning the shoots with Andreea, I really want to do some more project based work. So this summer is for getting in touch with cool people and brands that could be possible clients.
I want to do nothing. Being your own boss makes it hard to take a full day off, but I want to learn how to do less something and more nothing. As an example I spent half my Saturday eating cheese and crackers and looking out the window without feeling guilty.
I want to learn to turn down the stress. The past 2-3 months I've been stressed to the point of it getting to be quite unhealthy. I'll have to learn to pick out which things I want to be involved with and cut out the stuff that's too much. It's just hard when the stressful things are the most fun ones.
I want to figure out what'll happen next. Right now I'm at a cross roads and I feel that something's gonna change. I want to work more with the things I want to shape my future. I don't know which road I'll take yet, but no matter what happens it'll bring more creativity into my every day life.
What do you want to do this summer?