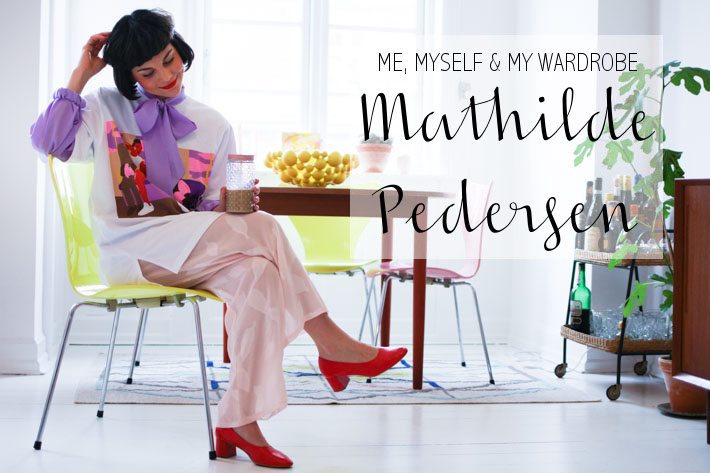 In this "Me, myself and my wardrobe" we're visiting with one of the blog's earliest followers, Mathilde Pedersen, whom I spotted, because she followed my instagram. She has great style, an amazing sense of colors and clothes – a true style icon! Last month, I finally got it together to ask her for an interview and a shoot in her gorgeous apartment so I could show and tell you all about her colorful fashion universe!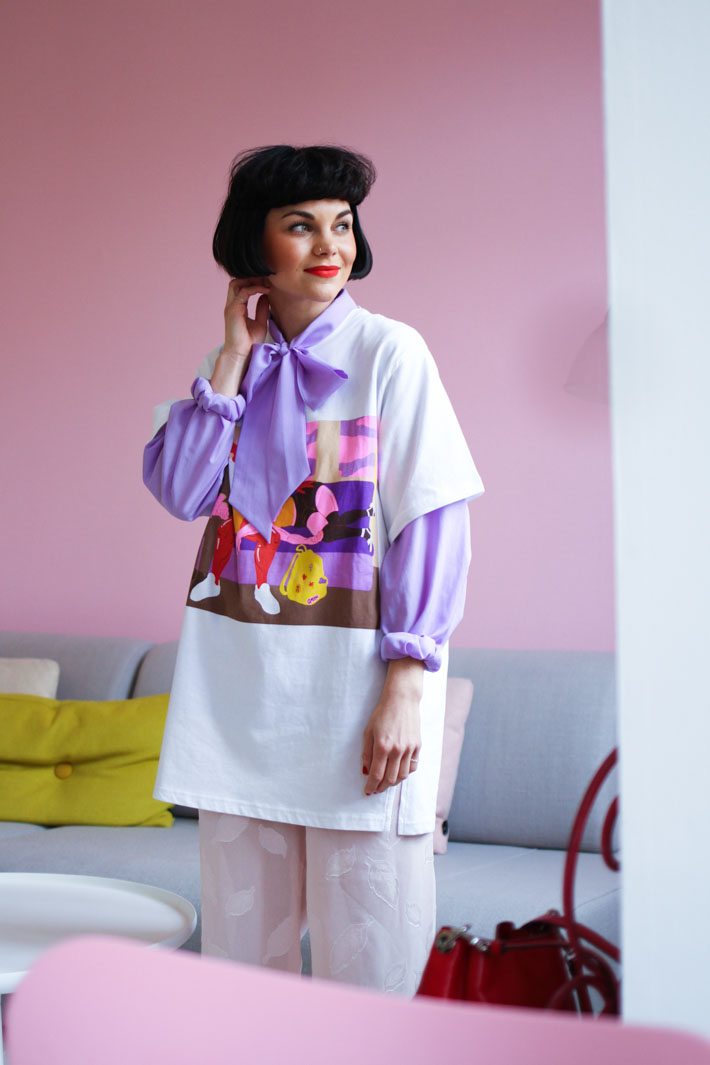 Who are you?
Mathilde, 28 years old, Area Visual for Monki i Denmark, Norway and France – that means that I'm the one who takes care of the visual expression in the Monki stores and make sure that the visuals – what you'd previously call decorators – can do what they're supposed to. So I'm a functional leader of the visual area in the aforementioned countries. My instagram account is @myrainbowfeeling. 
What do clothes mean to you?
It means a lot – I'd be lying if I said it didn't mean anything. Clothes are my entire image and my image is created by my look. And creating my look is also my hobby: when I need to chill out, I go into my wardrobe, ask my boyfriend not to go in there, and then I sit there and come up with new ideas for shapes, colors and fun outfits.
I'm very detail oriented, so my outfits need to bee 110% thought through – if you want to do something, do it fully and wholly!
I'm not really into trends, even though clothes mean so much to me. Sometimes I'm affected by tendencies in fashion, like when the 70's came back, I didn't really like it, but slowly, the idea of flares started growing on me.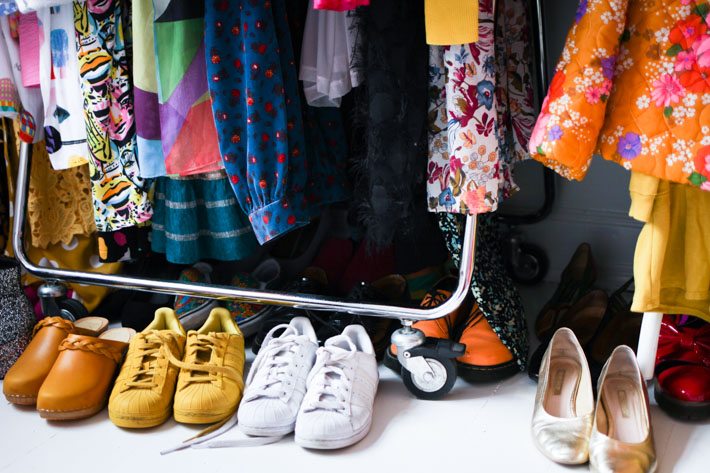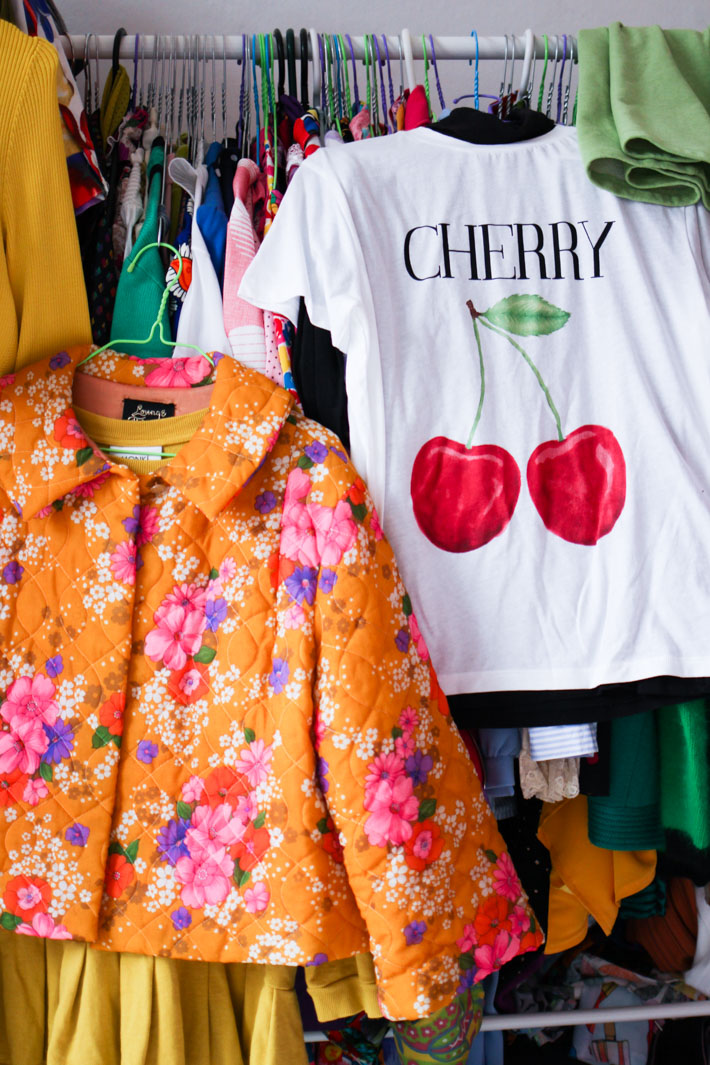 When meeting new people, do you think of how you dress?
I don't think about it at all. I kind of have two polar opposite way of thinking, when it comes to dressing myself: I know that I stand out from the crowd quite a lot, but at the same time I don't like it when people look at me. I know it's my fault that they're staring, I mean, I'm quite different looking than the usual Scandi girl, but sometimes I can't help but think "Really? Have you never seen a pink jacket before?"
I never fit my outfit to the people I meet, because having a style like mine, means that I can't tell if my look is crazy and too much for others, if it feels casual to me. So I always just make sure that I feel comfortable in my outfit. That's the most important thing.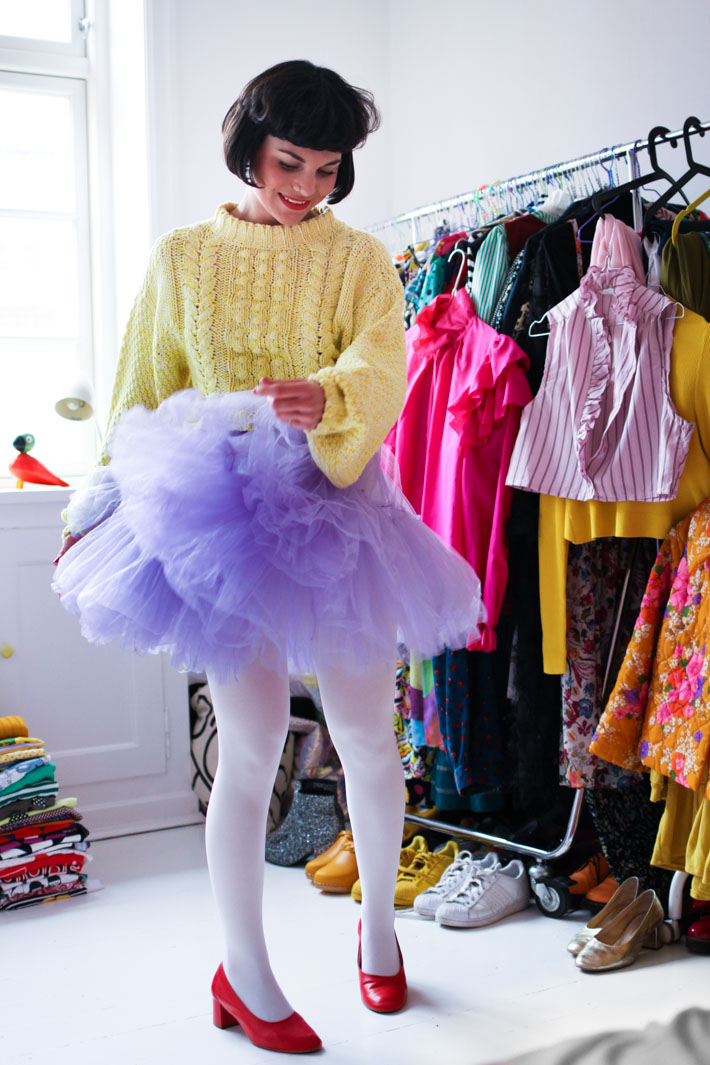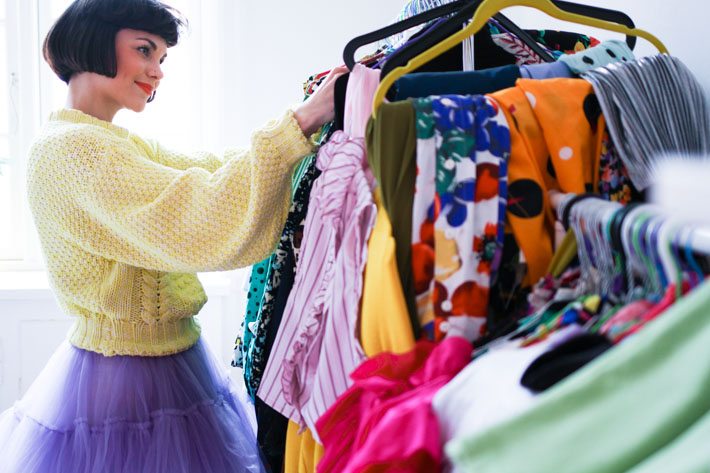 What was your first experience with clothes, that made an impression on you?
I remember my mom put me in mamluks when I was a kid. I hated it, but today I'd love to wear them. I also wore lace socks in little patent leather shoes, and that's what I'm wearing now!
I think my interest in clothes came by in middle school, where I started experimenting with personal style. My earliest experiences with fashion was the feeling of wearing something that made me feel good.
Do you have any clothes that means a lot to you?
I have few things that mean a lot to me. I have so much clothes in my wardrobe and about 70% is vintage, whilst 30% is Monki and some more expensive stuff. I have a lot of special things and I can never wear the sam outfit twice without changing something, so that means that I have a lot of rotation in the clothes that I use.
I do have one yellow dress form Monki, that I've worn any times in many different ways. And then there's my Chanle shoes.. How often do you find a pair of vintage Chanel ballerinas in your size? Those I really take care of and I don't use them too often, because I don't want them to break.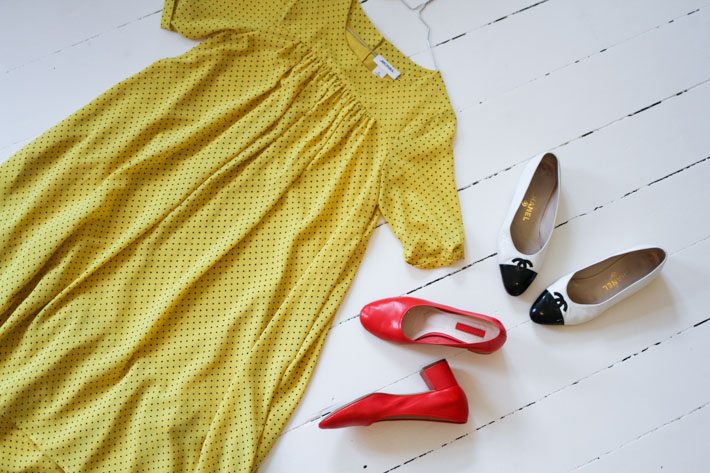 Have you had a specific situation in which your clothes have played a big part?
When I was at Louisiana Museum of Modern art at the time when the Yayoi Kusama exhibit was still on, there was this fun situation. And yes, I might've put on an outfit that matched her art, she just inspires med s much.
People almost thought that I was a part of the exhibition with ym yellow dotted dress and a polka dot shirt underneath and my boyfriend almost got embarrassed because so many people wanted to photograph me with the art works.
It gets a bit awkward sometimes, but it's fun. I know I stand out, but I don't always feel like being stared at.
What would you never wear?
I think this is a classic: jeans, a white t-shirt and sneaks. I just wouldn't feel comforfortable in it.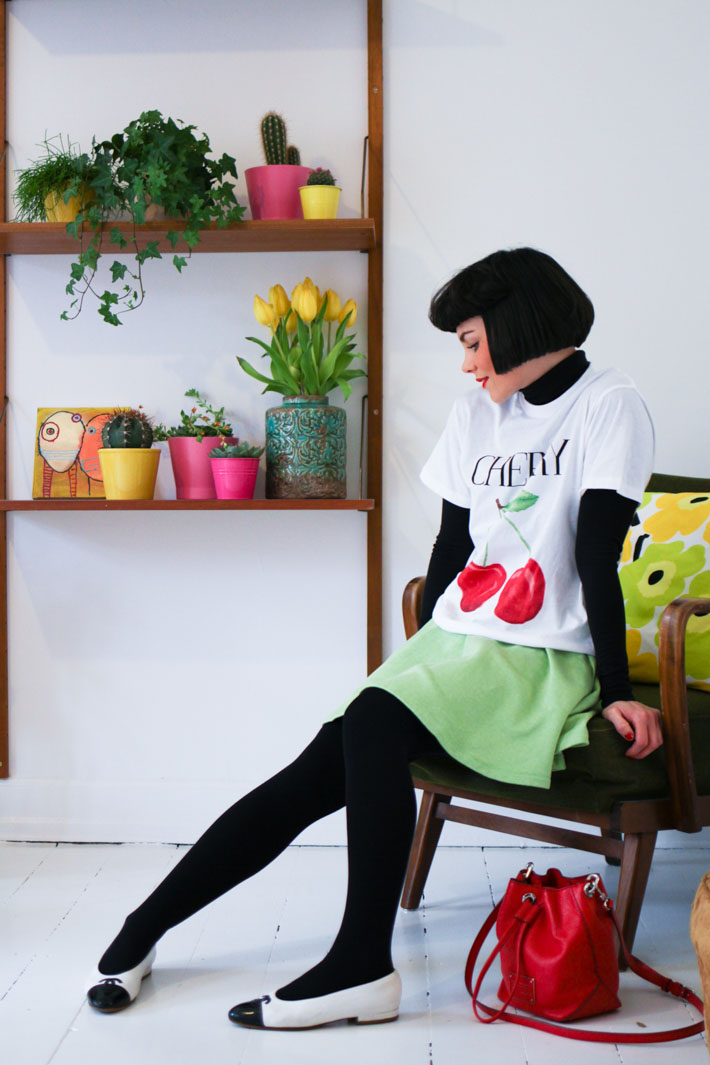 Whaere do you shop?
Since I work for Monki, I shop a lot in Monki. Besides that it's mostly vintage. I think finding good places to shop when your style isn't typical Scandi is a bit hard. I do think Nørgaard på Strøget have some nice things and & Other Stories, too. Besides that it's all vintage, and I especially find good things when I'm traveling.
For vintage in Copenhagen, Studio Travel  has some nice things.
What's your favorite king of clothes? 
I mostly wear skirts and dresses. I'f I wear trousers, they need to be mens style, high waisted and wide legged and they need to be in fun colors – I'm not into grey and black. Aside from that, I like oversized clothes. Even though I'm a size XS, I wouldn't wear something tight – when it comes to clothes, you need to look at them in stead of my body.
What do you think of Mathildes style and wardrobe?