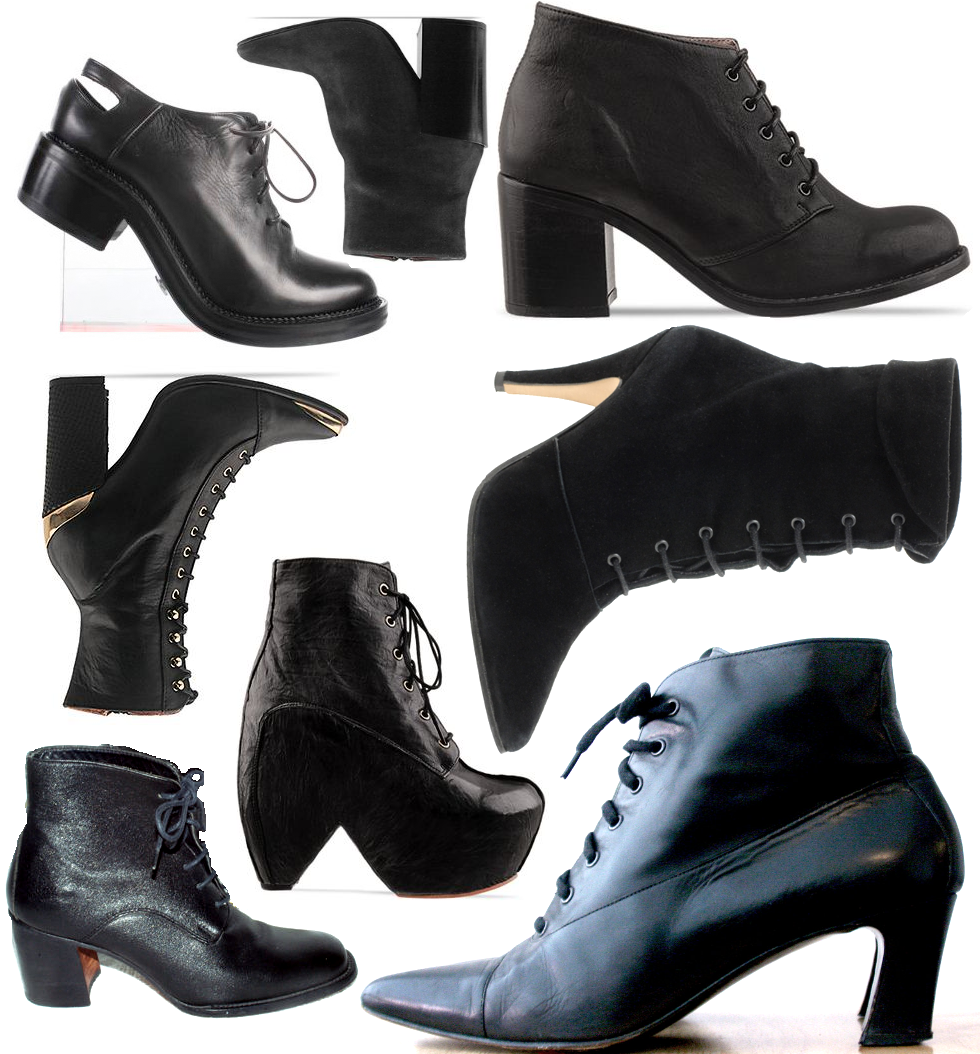 from the top, left to right: SIMONE ROCHA, ACNE, TO BE ANNOUNCED, JEFFREY CAMPBELL, GEE WA WA, GANNI, ETSY,  VINTAGE ESCADA found on ETSY
Så er jagten endnu en gang gået ind efter et par gode sorte vinterstøvler. I år er jeg ude efter snøresko med hæl og et lidt prusselusken-agtigt look, hvilket åbenbart er supersvært at støve op. De støvler, jeg har fundet, der lever mest op til mine prusseluske-skodrømme er klart skoene fra JC, Ganni og Escada. Dog er JC- og Ganni-støvlerne lige en tand over mit budget og Escada-støvlerne er måske en størrelse for store – øv øv! Så jeg har også vendt blikket mod andre støvler i lidt samme stil – Simone Rocha skoene er helt klart en favorit, og jeg planlagde for længt at købe den billige kopi som JC havde lavet af designet(fy!) dog ser det ud til at de er sat ud af produktion og den ægte vare sniger sig op mod de sekstusind kroner, puha.. Så jeg overvejer at gå efter sådan en helt almindelig sort snørestøvle med rund snude, selvom de er et stykke fra min ideelle idé omkring denne sæsons vinterstøvler. Hvilke sko går I etfer her til vinter og kender I sandsynligvis et par støvler, der matcher mine drømme?
The hunt for good, black winter boots has yet again begun. This year I'm going for black, heeled lace up boots and a look resembling Miss Prusselius from Pippi Longstocking, which apparently is really hard to find. The boots that I founf that live the most up to my Prusselius-shoe wishes are definately the ones from JC, Ganni and Escada. The JC and Ganni-boots though, are a tad to pricy and the Escada ones might be a size too big – dang! So I've also started looking at other boots in kind of the same style – the Simone Rocha brogues have been on the top of my wish list for long, I even planned to buy the cheap sopy of the design that JC made(bad girl!), but even they are sold out and might be out of production and the real deal sneaks its way up to around nine hundred euros, phew.. So I'm considering going for a completely ordinary black lace up boot with a round toe, even though they're a bit besides what I really wanted. Which shoes are you going for this winter and do you know a pair that match my dreams?