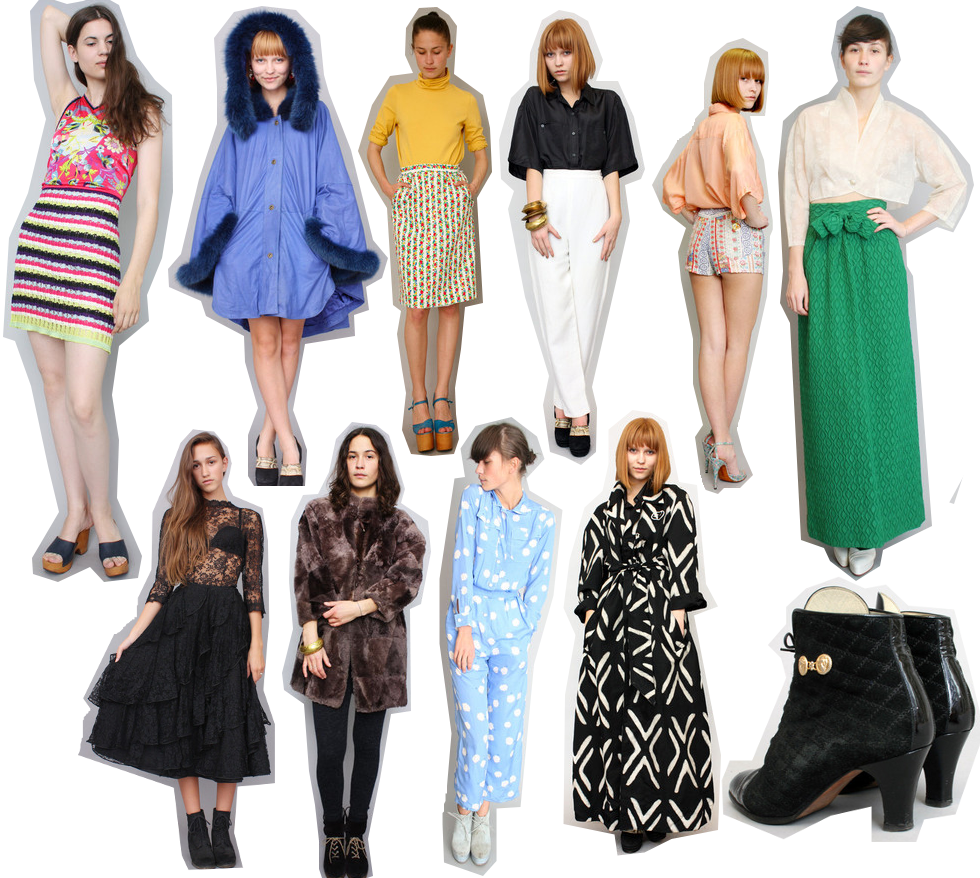 CHRISTIAN LACROIX DRESS, 80'S BLUE LEATHER CAPE, YVES SAINT LAURENT FLORAL SKIRT, CHANEL PANTS, MOSCHINO SHORTS, PUCCI MAXI SKIRT, 50'S LACE DRESS, LAMB FUR COAT, 60'S JUMPSUIT, 80'S GRAPHIC RAINCOAT, VERSACE BOOTS.
photosource: time's up shop
Nu bliver jeg jo snart student og mine forældre har plaget mig om et ønske til en god studentergave. Oftest får man jo for eksempel noget som en marguerit-broche, en fin halskæde eller lignende i studentergave og mine forældre vil rigtig gerne give mig noget i den dur – noget, man husker og gemmer for altid. Jeg har tænkt så det knager og det er get op for mig: hvis der er noget, jeg altid vil huske og gemme, så er det et rigtig godt stykke vintagetøj. Helt ærligt. Jeg lever for tøj og et fantastisk stykke vintage-tøj med historie er noget nær himlen for mig. Noget, jeg ved, jeg aldrig vil skille mig af med. Derfor har jeg siddet og kigget igennem Time's Ups arkiver efter lækre vintage-ting og har fundet en hel masse. Jeg tror, det jeg helst ville ønske mig i studentergave er noget som Christian Lacroix kjolen fra 90'erne, Chanel bukserne, en rigtig god pels, den grafiske frakke eller Versace støvlerne. Sikke nogle fantastiske ting! Og hvis man engang vokser ud af tøjet på en eller anden måde, ved jeg det er noget, jeg alligevel vil blive ved med at have hængende til pynt i mit skab. Uhm, vintagetøj er bare fantastisk. Hvad synes I om det dejlige vintagetøj? Og hvad ville I ønske jer i studentergave?
Soon it's my time to graduate and my parents have been begging me for a good graduation present-wish. Oftens you'd ged a brooch or a necklace or something alike from your parents – something you'll save and remember forever. I've been thinking a lot, and it has ocurred to me: something I'd always remember and never throw away would be an amazing piece of vintage clothing. Seriously. I live for clothes and an amazing piece of vintage clothing with a story behind it is pretty much heaven for me. Something I know, I'd never get rid of. Therefore I've been looking through the pages of Times Up and found a whole lot of great things. I think that what I'd want the most for my graduation present would be the 90's Christian Lacroix dress, the Chanel pants, a great fur coat, the graphis rain coat og the Versace boots. What amazing items! And it I'd grow out of them for some reason, I know I'd still keep them hanging in the closet. Yum, vintage clothing is the best thing ever! How do you like these vintage clothes? And what would you wish for as a graduation present?