After having a couple of you ask for a post on my wardrobe favorites, you really had me thinking. During the last couple of years, my wardrobe has grown a lot and I have little stories that go with each and every single piece on my clothing racks. I tend to remember days and what I did by remembering what I wore that day, so there are so many little stories hanging on those racks! Though, it seems with the things I chose to shoot for this post, that they don't have one specific story I connect to them about when I wore them and what I did – simply because I wear them so much that they have experienced quite a lot with me.
By the way – would you be interested in reading posts with little stories that go with some of my wardrobe faves? I personally love the stories that go with clothes and I'd love to share them with you.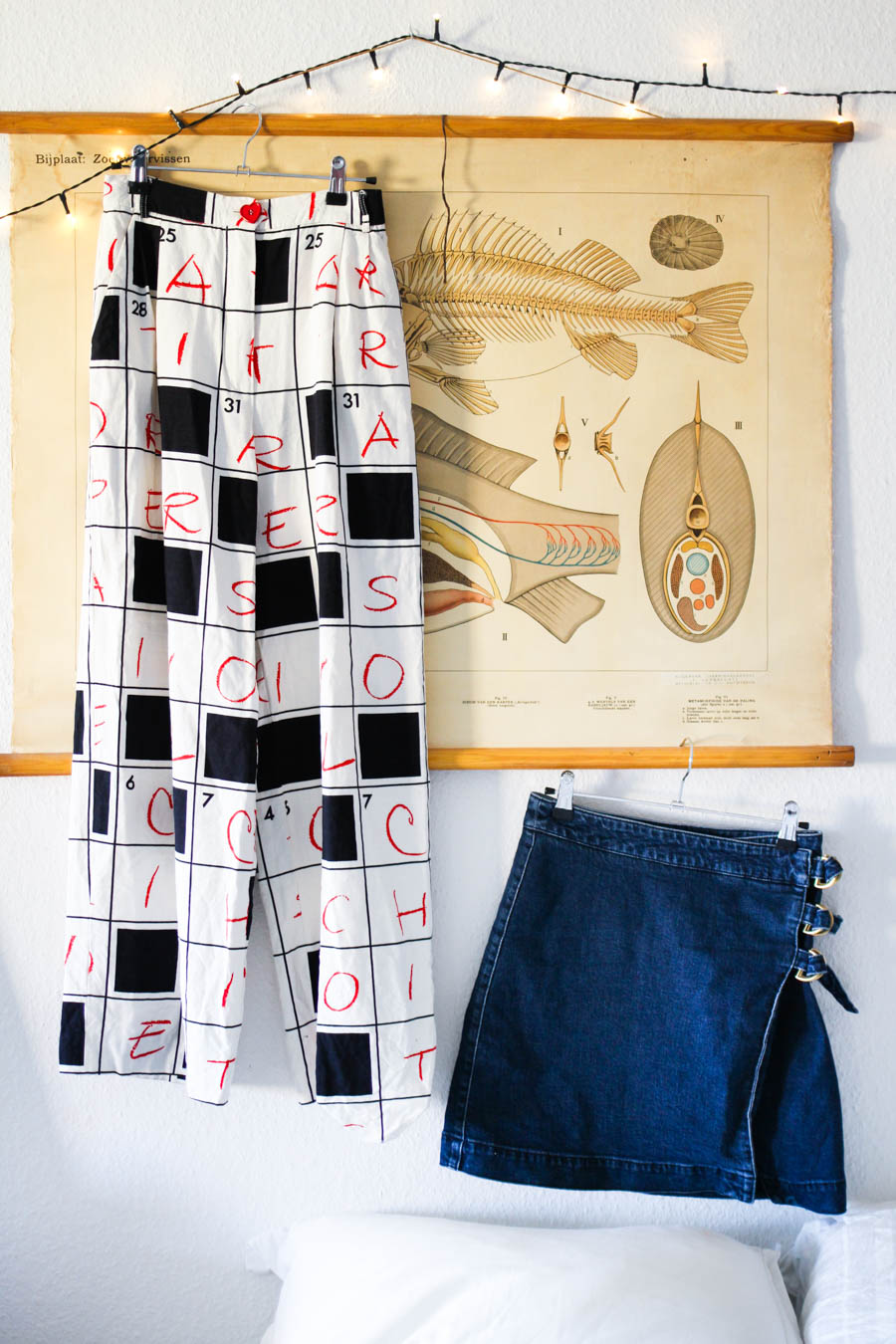 My vintage Love Moschino trousers are one of the best things I own. Firstly, they fit like a dream and are amazingly comfy to wear and secondly, they're the prettiest trousers I've ever had. I love it when some items of clothing are so interesting that you can't stop looking at them and investigating them and that's just how I feel about these trousers.
My wrap skirt in denim from Asos has truly saved me from many clothes crises and I've only owned it for half a year. It goes with any t-shirt, knit jumper or shirt formidably. It's simple enough to go with anything and detailed enough to still play a significant role in the outfit. Perfect!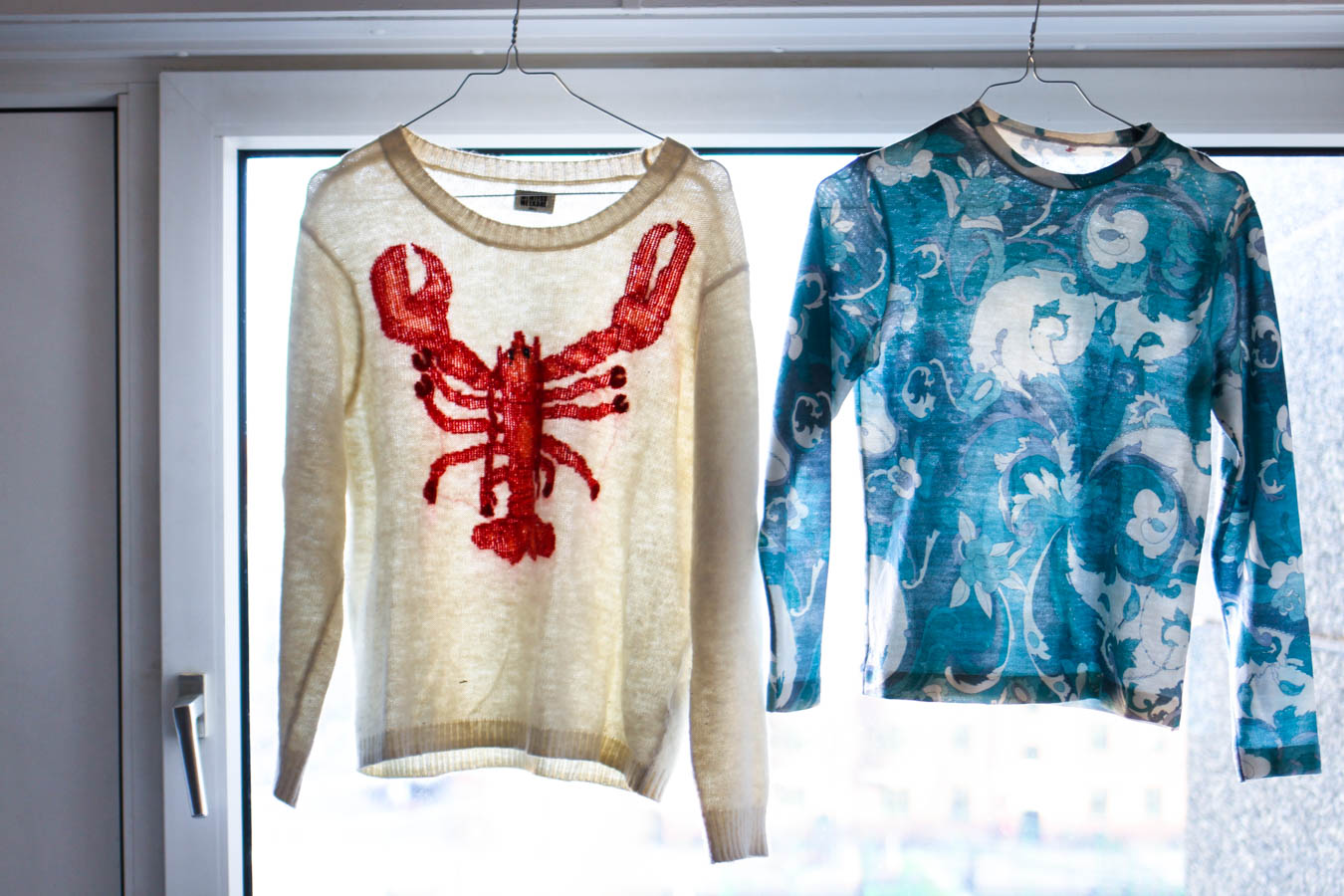 My lobster jumper is one of those things I'll always put on if I don't know what to wear. It makes me happy and everyone around me notices it for being so funny – a kind of party starter, and a conversation starter. And the fact that I cross stitched the lobster myself makes it feel just a little more special.
My blue printed thrift top is always a winner, which makes me feel super cool. I got it from a friend as a gift, after I told her I wanted to buy it from her and ever since it's been a hit whenever I've worn it.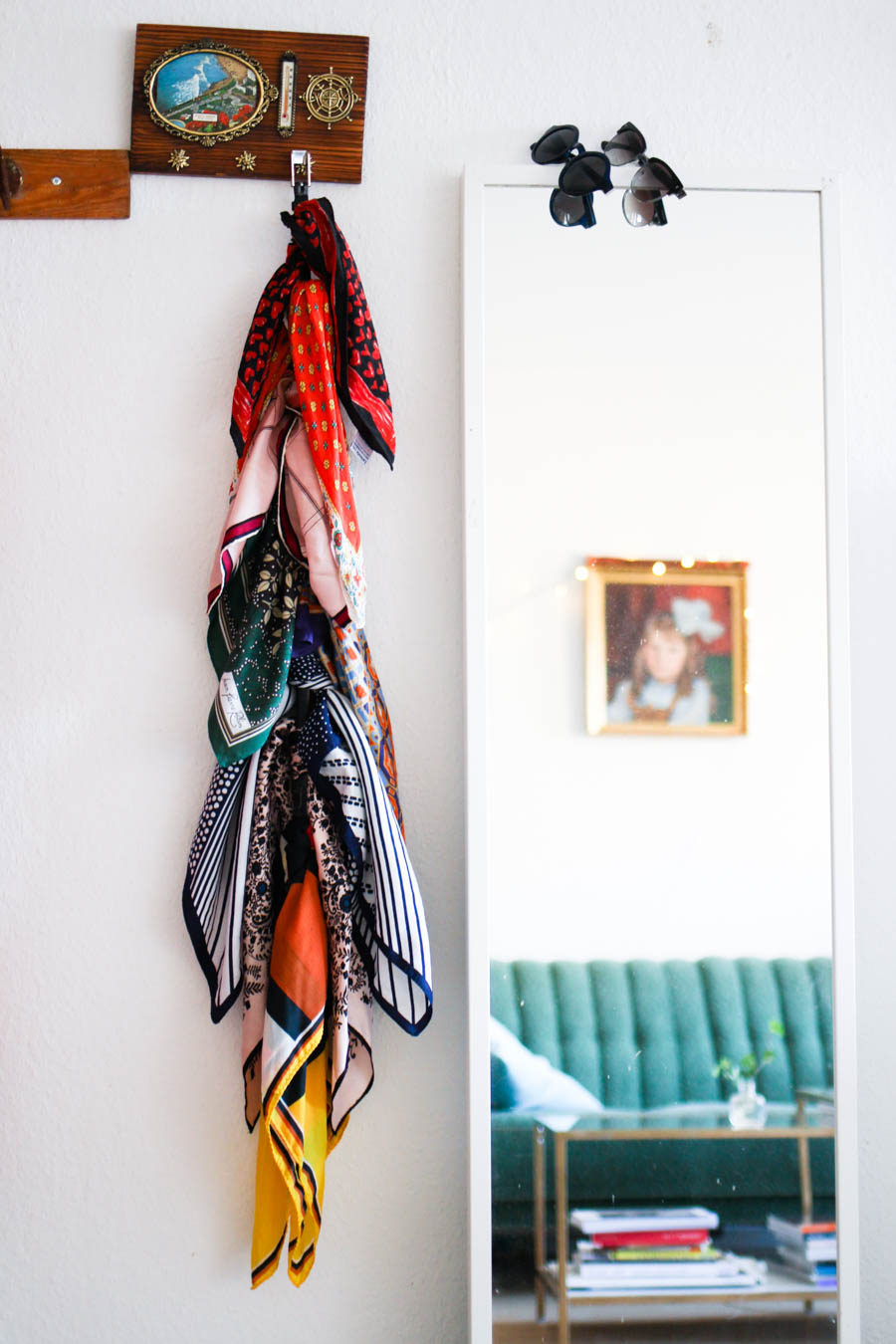 Now this might just be something temporary or something that will stick – that's yet to be figured out: my collection of silk scarves, which has grown a lot these past months. I love giving some more detail to an outfit by adding a silk scarf and I expand the collection with more colors and prints, so I have something that goes with every outfit. The blue and white one though, that just goes with everything.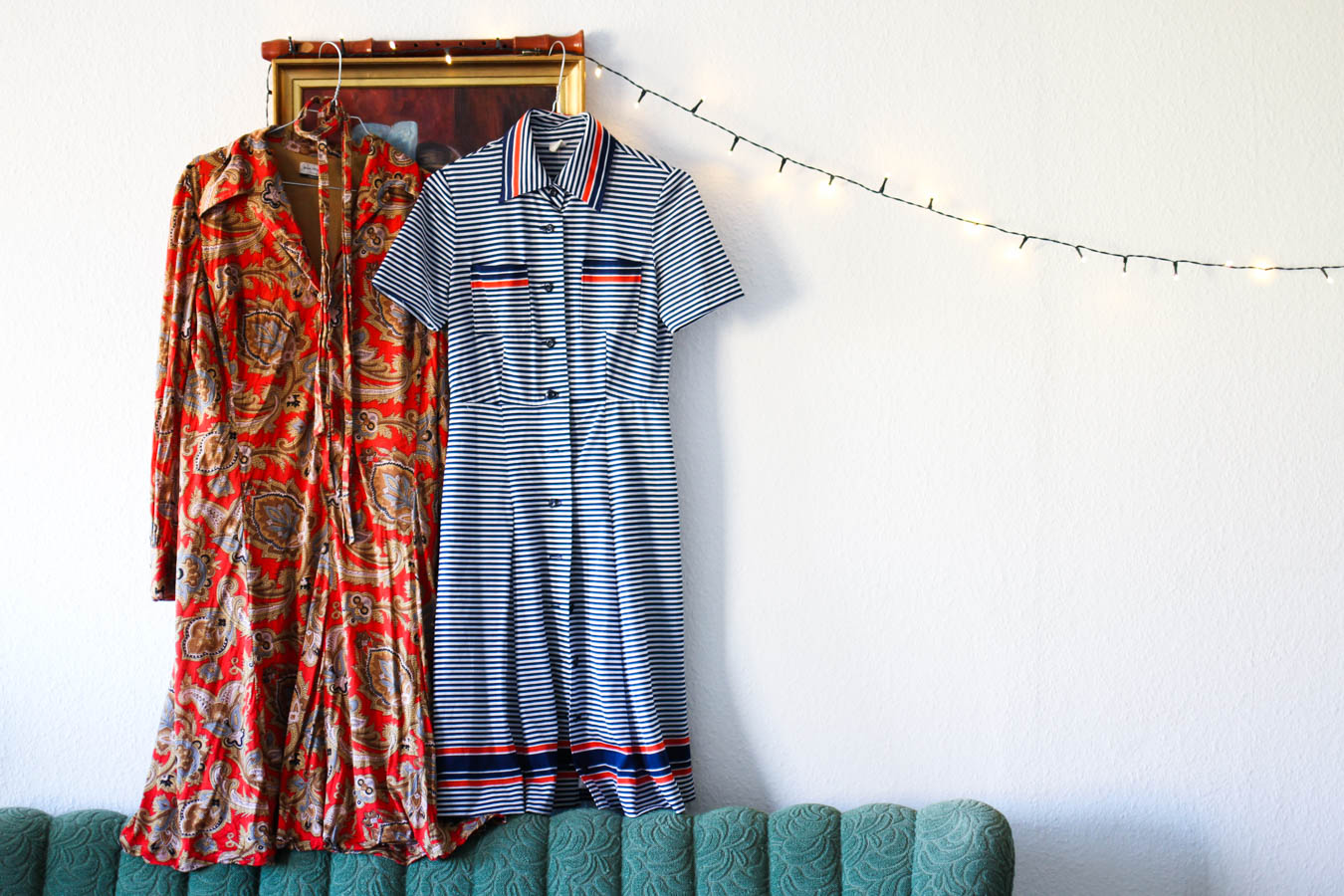 If I should mention two dresses that make me feel like a million, it's these two thrifted ones, which I got last year. The red seventies dress was a risk item – it could be the best thing ever or it could make me look frumpy and weird. Luckily the first possibility was what happened and I feel both beautiful and cool wearing it – and it does really save a boring day by giving my mood a boost of fun and adventurousness.
My striped sailor dress is also a piece I wear for days when my mood and confidence needs a boost. It fits perfectly, it's nice and vintagy plus it draws compliments from everyone!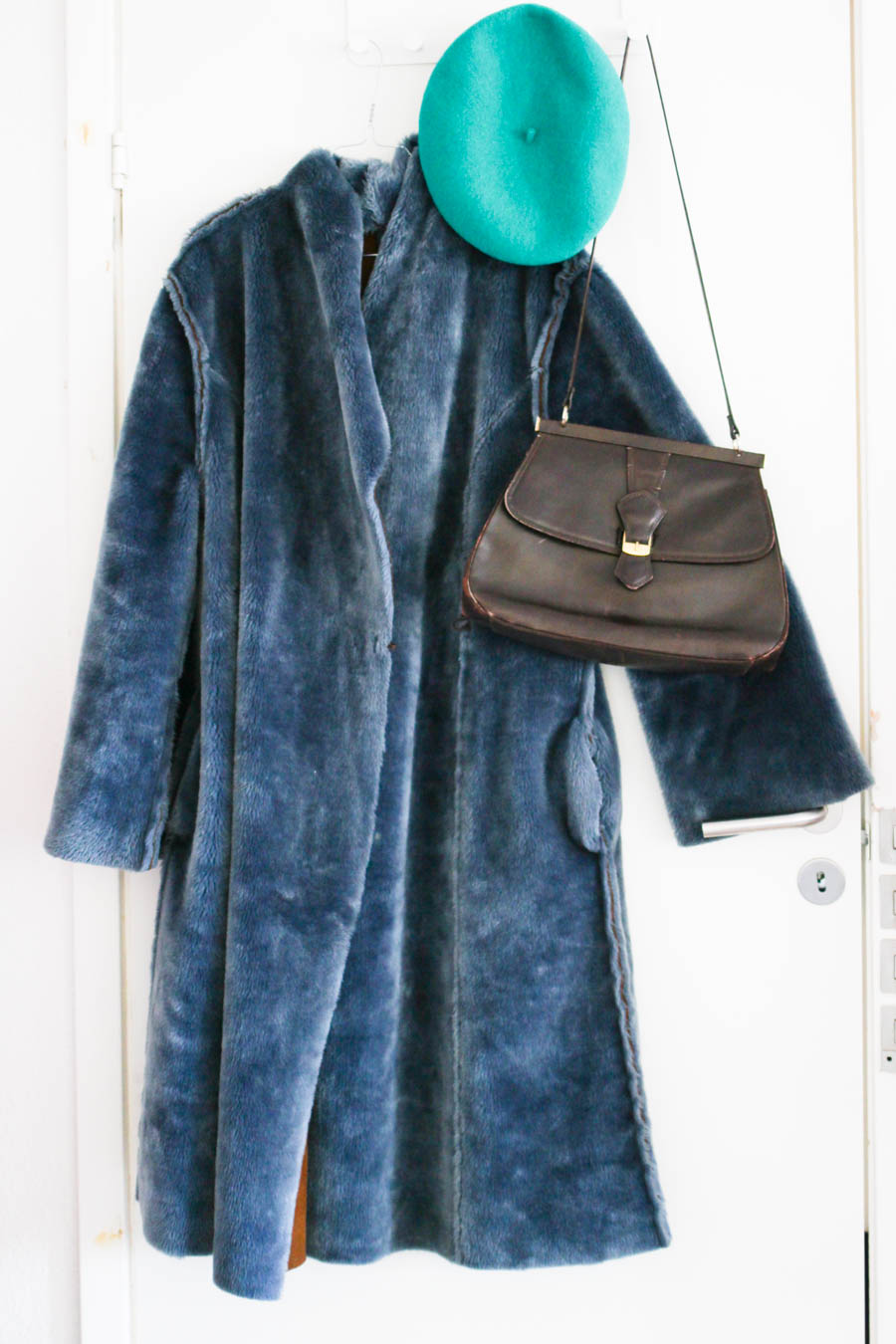 When it comes to outerwear, one of my heroes is the blue fake fur I got in a charity shop. Besides being soft and super warm, it's just so incredibly cool and I always feel a bit more fun and interesting when putting on that fur.
One of my best bags for giving my outfit a nice vintage twist is my brown leather cross body, which is so spacious that you won't believe it. It's also one of my most elegant vintage bags for sure!
Last but not least we have my turquoise beret that I got in a charity shops some months ago to wear for NYE. I simply just adore the color turquoise and this cute little hat helps me feel a bit more french and colorful.
Which item in your wardrobe is your fave? And which pieces in my wardrobe do you love the most?