New York Fashion Week has just begun and I haven't even felt the slightest bit of FOMO. During the last years I've been sitting at home with an inescapable fear of missing out every time a fashion week has been on and I wasn't there.. But slowly, it's started to disappear.
After having swum in a soup of showing off in the streets, being dressed in the right trends and being photographed by the right photographers in my going-to-fw-4-times-a-year years, It occurred to me that I'm actually confused about what fashion week is.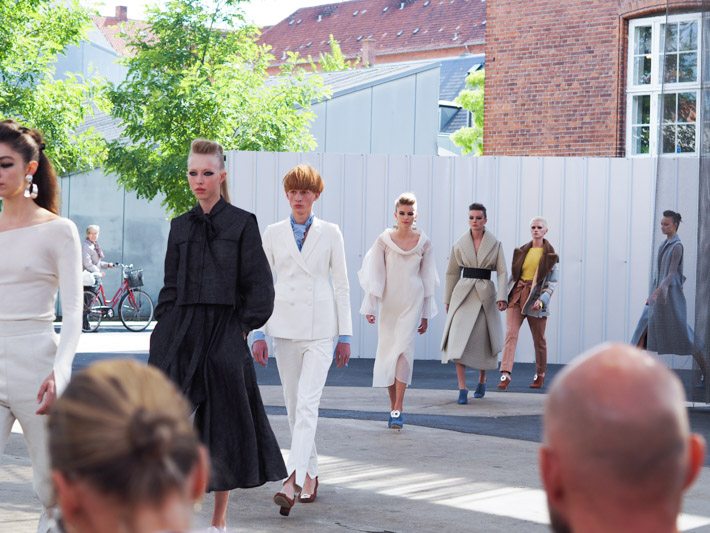 Mark Tan SS17-show i København
You would probably define fashion week as a handful of days where the fashion business' buyers and press come together to look at new collections. But I don't really feel that fashion week can be defined in that way, or at least as clearly, anymore. I might be marked by my years as a street style photographer, but the words "fashion week" brings images to mind of a madhouse of people strutting in the street to show off their borrowed outfit(third look of the day, mind you) even more than the models do on the runway…
When I was at Copenhagen Fashion Week this summer, I had an epiphany that made me doubt why I offered my presence to this fashion week.  My epiphany was about the fact that I really have no need to show off and be photographed during fashion week no more. All I wanted to was doing what I was invited to do – look at clothes coming down the runway. Even though more and more of my previous international photographer colleagues are coming to Copenhagen to shoot the fancy Scandis, I didn't really feel for posing for their lenses. I completely lost my urge for pretentiousness and I really didn't think a photo of myself on some street style page was relevant for what fashion week is. Or used to be, at least. You know, that looking at clothes on a runway-thing.
It seems like the street circus has become more important than what walks down that aforementioned runway. 
And I started wondering if the sales made from stating clothes in the streets are becoming more important than the sales made from the runway? At the Baum und Pferdgarten show this season, the fashion house had dresses pretty much all guests, that might be photographed, myself included, in their own fall collection. That had just landed in stores. Fancy marketing trick? I think so!
My these smart marketing tricks born out of the importance of shameless self promotion aside. It's more that self promotion I want to talk about. The shutting in the streets, posing and importance of being invited to every single show no matter if you find it interesting or relevant for your business. It confuses me. But still, it makes sense. The self promoting "me me me"-society that I dare to say we're all part of these days allows it to be perfectly defendable. It's about shamelessly promoting oneself, so why focus on the runway, when you can focus on showing your best, most stylish side off?
Very appropriately, one of Danish fashion's best journalists put up a tip on his facebook a few days after fashion week: 
"Good advice for fashion magazines that want to stay relevant. Skip stories about what the editors are wearing and focus on communicating you experience of the designers' collections, the work of the stylists, the look on the streets and the mood."
And I couldn't agree more! So at least I'm not alone in thinking that fashion week has moved into being a circus where everyone has to perform their show on the street and in front of their own selfie cam.
My original intention of this little article was something like redefining the meaning of fashion week.. But I don't feel I've stepped any clothes to a conclusion, aside from the fact that the word "fashion week" starts to sound more empty than ever. And now that all collections go online within a matter of hours after the show finished, I start doubting if participating in the circus is worth it if you're just interested in seeing the clothes on the runway and getting inspired by a well done show?
Bye bye, fashion week-FOMO!