I finally got back to the second My Copenhagen post – here's the first one! This time we're in my own hood, Nørrebro, and since I have so many good spots here, I'll divide it into two.
This one's about the food!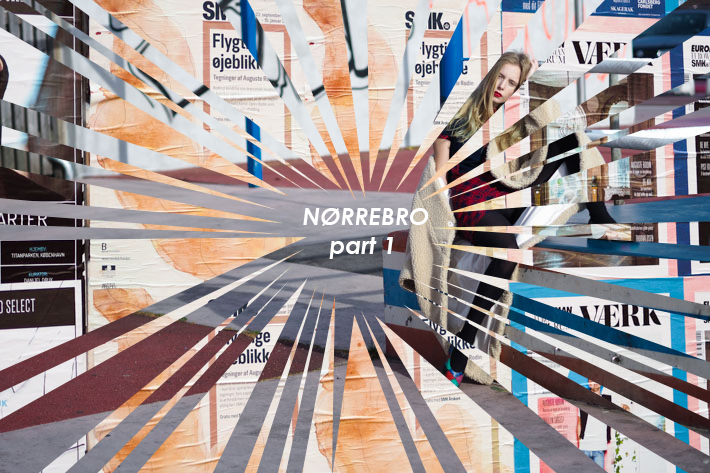 Crossing Dronning Louises Bridge towards Nørrebro to go for lunch is a great idea. My first food tip on Nørrebro is right near the bridge on Ravnsborgsgade, namely Bevar's. Here you'll get the best open faced rye sandwiches ever(go for the potato one)! Right on the other side of the street from Bevar's you'll find a nice cafe called Mellemrummet, where you'll get loads of different drinks, some snacks, board games en masse, coziness and loads of students. This is the place to go for studying/grabbing a beer after work or school/playing board games with friends!
When you go back to Nørrebrogade, cross the street, for there you'll find Nordic Noodle. A bit pricey, but oh, it's good! Here you'll get great noodle dishes and decide you own filling – and pay according to how much you add. For dessert, drop by Social foodies a couple of metres down the street for ice-cream. Get your cone chocolate coated and fill it with the lemon-marengo ice-cream and blueberry "guf"! Grab you afternoon coffee and maybe dinner at Gaarden og Gaden further down Nørrebrogade. It's the coziest place with nice retro interior.
Bevar's, Ravnsborggade 10B
Mellemrummet, Ravnsborggade 11
Nordic Noodle, Nørrebrogade 29
Social Foodies, Nørrebrogade 41
Gaarden og Gaden, Nørrebrogade 88
A bit further down Nørrebrogade you'll get the cheapest durums in town at good old Fivestar. I was introduced to the place as the best durum spot in town, but some say that Durumsymfoni further down the street is better. Oh well, Fivestar offers great pitas for 28kr! The last caf' on Nørrebrogade you need to know about is Møllers Kaffe og Køkken where you'll have the best breakfast ever. You choose a bunch of small breakfast dishes and end up with an amazing morning meal, yum!
If you turn left from Nørrebrogade after the Assistens Cemetery, you'll arrive at my area, Stefansgade-kvarteret. Here you can get that famous, amazing pizza at Stefanos Pizza, where people queue in the street on weekend evenings. A few meters from the pizza mania you'll find Stefanos Grønne Hjørne, a cafe/kiosk with great lemonades, snacks and take-away sandwiches. Even further down the street, you'll find a nice café called Taxi – super cozy and the tables on the sidewalk are completely filled in the summer.
Aren't you up for all this food stuff, but just want a good cup of joe, swing by Coffee Collective on Jægersborggade for the best, freshly brewed coffee you'll get!
Five*****, Nørrebrogade 100
Møllers Kaffe og Køkken, Nørrebrogade 160
Stefanos Pizza, Stefansgade 33
Stefanos Grønne Hjørne, Husumgade 50
Taxi, Hørsholmsgade 32
Coffee Collective, Jægersborggade 10
Do you have any good tips for Nørrebro?