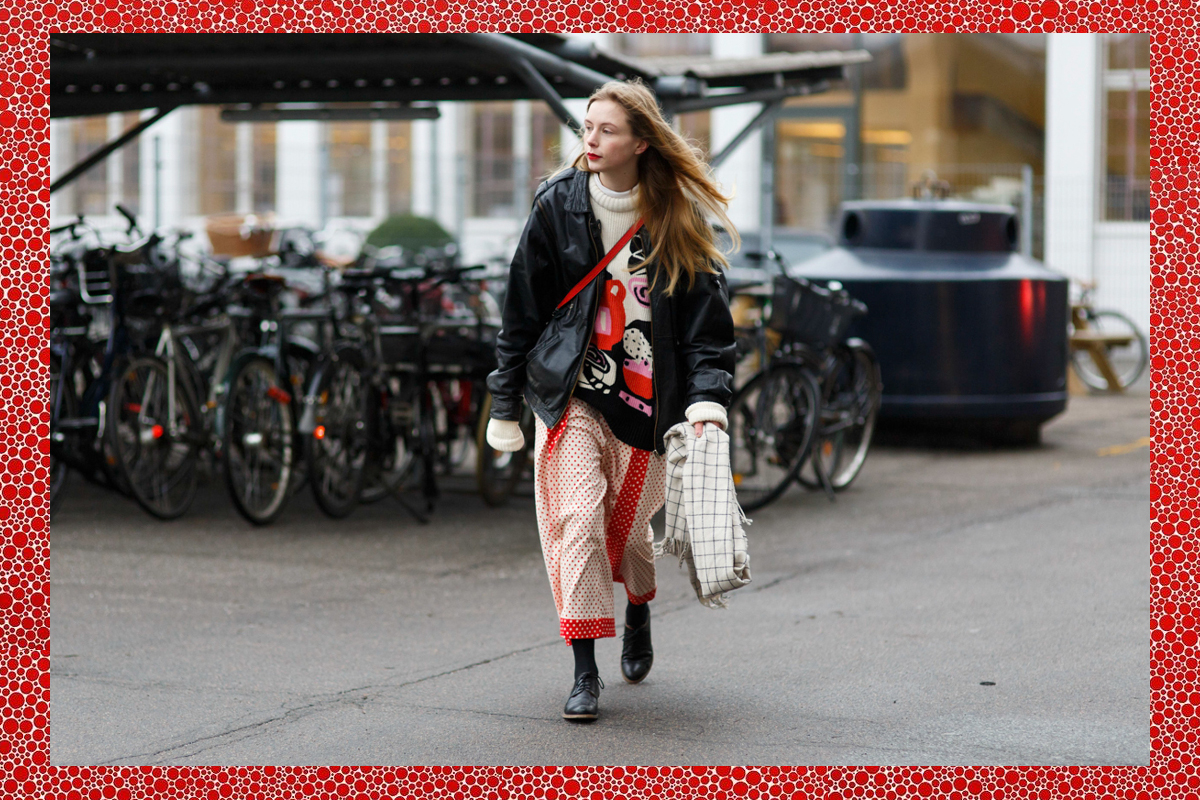 street style photo via Scandinavia Standard
JACKET: SECOND HAND, JUMPER & TROUSERS: HENRIK VIBSKOV, SHOES: BIANCO, SCARF: MONKI
This is the only photo I've found of my favorite outfit from Copenhagen Fashion Week. I borrowed a giant knit with sausages on it and a red and white dotted pair of culottes from Henrik Vibskov. Sausage theme outfit love! Thinking of the blog and showing you guys my look, I'm not that happy that I don't have more photos of this look, but during fashion week, I couldn't have cared less. 
I feel like my want to stuff my stuff for the photographers is so far from anything I feel like engaging in, that I stopped giving any fucks about it. Maybe it has something to do with going through a hard time at the moment, which made my mood during fashion week quite shitty, but nonetheless, those photogs annoyed me a bit.
The photo above is a fake. It was takes as I arrived at the Baum show. I was headed towards the entrance, when a street style photographer(not the one who actually shot this) asked me for a photo. I stopped and said okay. "Can you walk?" he then asked and I started feeling spiteful, after having studied photographic reality and posed reality in photo class at school. And I knew that this photo would be presented as documentary image showing something that people would thing was the reality, whilst actually the photo was posed. But I did it. I walked and he said "One more time?" and I said "We'll do it afterwards" and ran inside, hoping he wouldn't notice me when I exited. He did and I ended up angrily stating that I wouldn't walk.
I don't know how that change came around, starting out shooting street style myself and wanting so bad to be photographed, posing and walking in all sorts of ways, to finally not caring the least and not wanting to stop for a photo. It feels weird going though that change, but is also feels quite liberating, skipping the anticipations and hopes to be photographed and just walking to the show entrance without trying to look super cool. Maybe I grew up. Maybe I'm rebelling against my previous, pretentious self?
During the weeks to come, I'll be releasing a video that I and my video-friends produced for Stine Goya and I feel like that's where I want to put my energy working in the fashion business. I'd rather do creative concepts and cool productions that show off in the streets.
What a long piece, huh? But what do you think about my sausage look and all that street style-blabber? 
[show_shopthepost_widget id="2418179″]