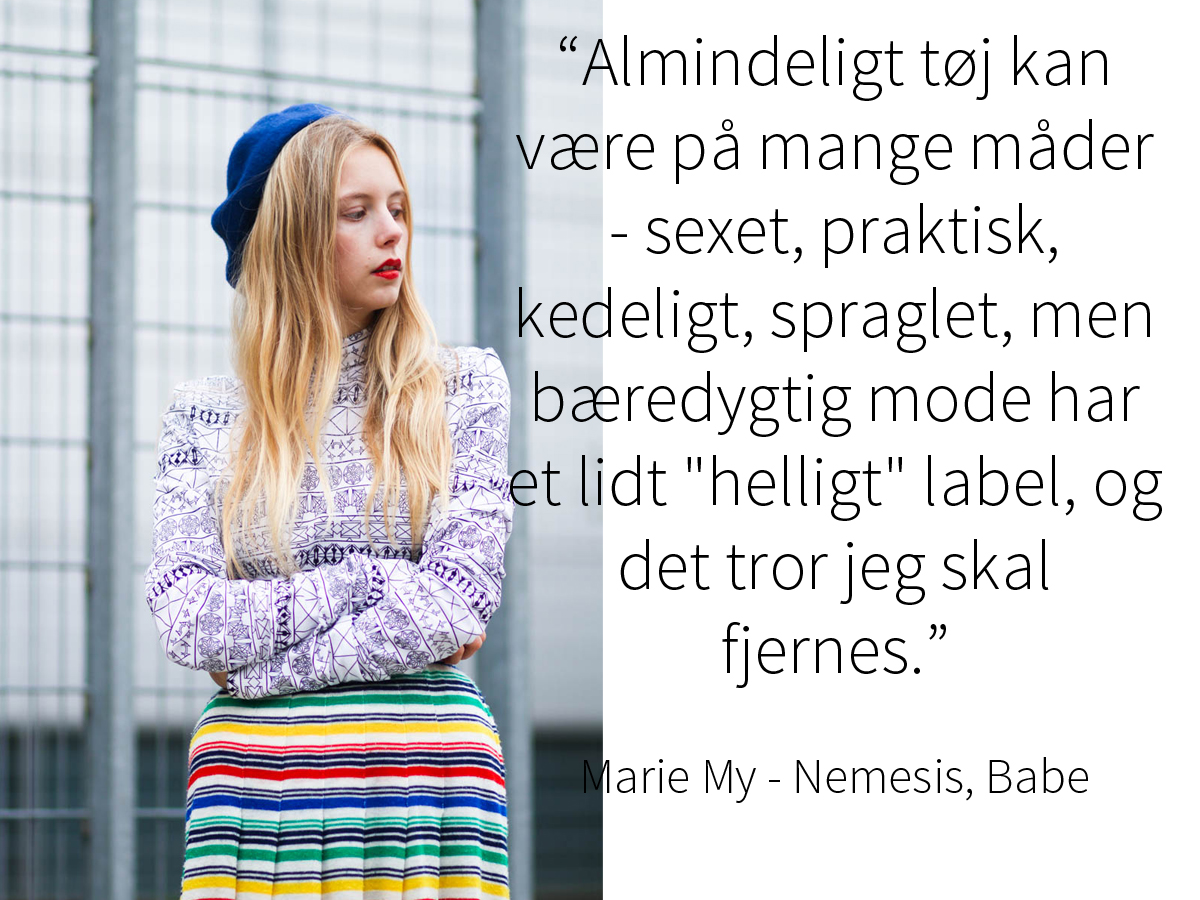 It's been almost a month since I went to Copenhagen Fashion Summit, the worlds biggest sustainability conference about fashion, but I didn't blog about it. Later I've found out that that might've been a mistake, but luckily, straight after the summit,  Johanne from Bedre Mode asked me about my thoughts on the summit, so I did write everything down.
And now, that I'm in the midsts on studying for my exams, I wanted to repost her interview with me since I haven't got the time to to lengthy blog posts these days.
Johanne: What was your experience after the Fashion Summit?
Marie:
 My head felt a bit heavy when I left. Both because it had been a long day with a lot of things to digest(aside from the sparse lunch), but also because I was a bit confused about some things.
There were a lot of exciting talks with people I'd been excited to hear speak, like
Vanessa Friedmans talk om how to make sustainability sexy
and
Hannah Jones from Nike
, who spoke about her efforts to make Nike's produktion sustainable. She seemed super passionate about the subject and that was inspiring.
But there were also some talks that disappointed me
and that I felt irrelevant. As an example, the
talk between Renzo Rosso from Diesel and Suzy Menkes
(who was the catalyst for me to buy the expensive Summit ticket) confused me. There was a lot of talk about Rosso's own life, his parents' farm and about 2 minutes of talk about how he produced his denim.
Where was the talk about what he did to produce sustainable denim? Diesel is such a big player on the mainstream market that they'd really be able to pop the bubble on how to make regular consumers shop sustainably. Unfortunately this wasn't addressed to much, and when it was addressed, Rosso's answers seemed a bit dodgy. So though that talk, all I did was wait for lunch. 
Aside from that the
discussion on sustainability in the media
disappointed me. I'd really looked forward to hearing people from Vogue India, Vogue Australia and BoF speak on how to communicate sustainability, but I felt like the talk was held on a semi irrelevant level. They talked solely about how to communicate sustainable fashion to the already interested consumer and the luxury fashion consumers and I felt like it needed to be a bit more down to earth. Isn't the important subject how to get out to the masses, the regular consumer, in stead of the fashion business itself?
Vanessa Friedman, Fashion director and chief fashion critic, New York Times from Copenhagen Fashion Summit
Johanne: My favorite talk was Vanessa Friedman, who thought that we need to make the talk about sustainability and fashion more sexy. You're quite good at making thrift clothes sexy and exciting, how do you think we should do it with sustainability?
Marie: That was my favorite talk, too! I do think that the way in which sustainability is to be made more sexy is making it common. Common clothes can be in many ways – sexy, practical, boring, crazy, but sustainable fashion has this "holy" label and I think it needs to be removed.
The fact that clothes are produces sustainably doesn't have to be what it's promoted upon. If the clothes are produced in that way it's great, but the important thing about those clothes should be just as any other clothes: the style, the cut, the print and use of color, the design aesthetics. The sustainable production should be a given.
I don't think people will forget the itchy, beige colored linen-idea of sustainable clothes unless this happens. Look at Agurk, for example. They promote their clothes on their aesthetics, 80's sportswear and wild prints are their staples, and the sustainable and responsible production of the clothes is just a bonus. Now that's sexy.
Johanne: Fashion Summit is supposed to prep us for the future and make the industry ready to put on their gloves and get to work. Do you think that there were some exciting solutions for this at the Summit?
Marie: Honestly, no, I don't think a lot of solutions were presented at the Summit. There was a lot of talk for the sake of talking and the people who were there, were people who were already interested in sustainable fashion. The Summit was a great way for a lot of people to promote their own initiatives. I think Vanessa Friedmans talk was a usable solution on the communication of the subject.
But I missed the talk about reality – the talk about how we, who already have chosen this business and this field of interest can spred it to all those, who don't care or never thought of sustainable fashion. I missed the talk about the regular consumers, who buy clothes because it's pretty or cheap or great to wear for the party tonight – how do we make them shop sustainably? And how do we do it without preaching it and trying to convert them into little green activists, but just let them be how they've always been, but shopping sustainably because it's good design, pretty, easy and – when that time comes – cheap? And last but not least – there was no talk of minimizing consumption and thereby production and wasting of the earth's resources, which is chocking. I mean, come on!
What are your thought on the subject?