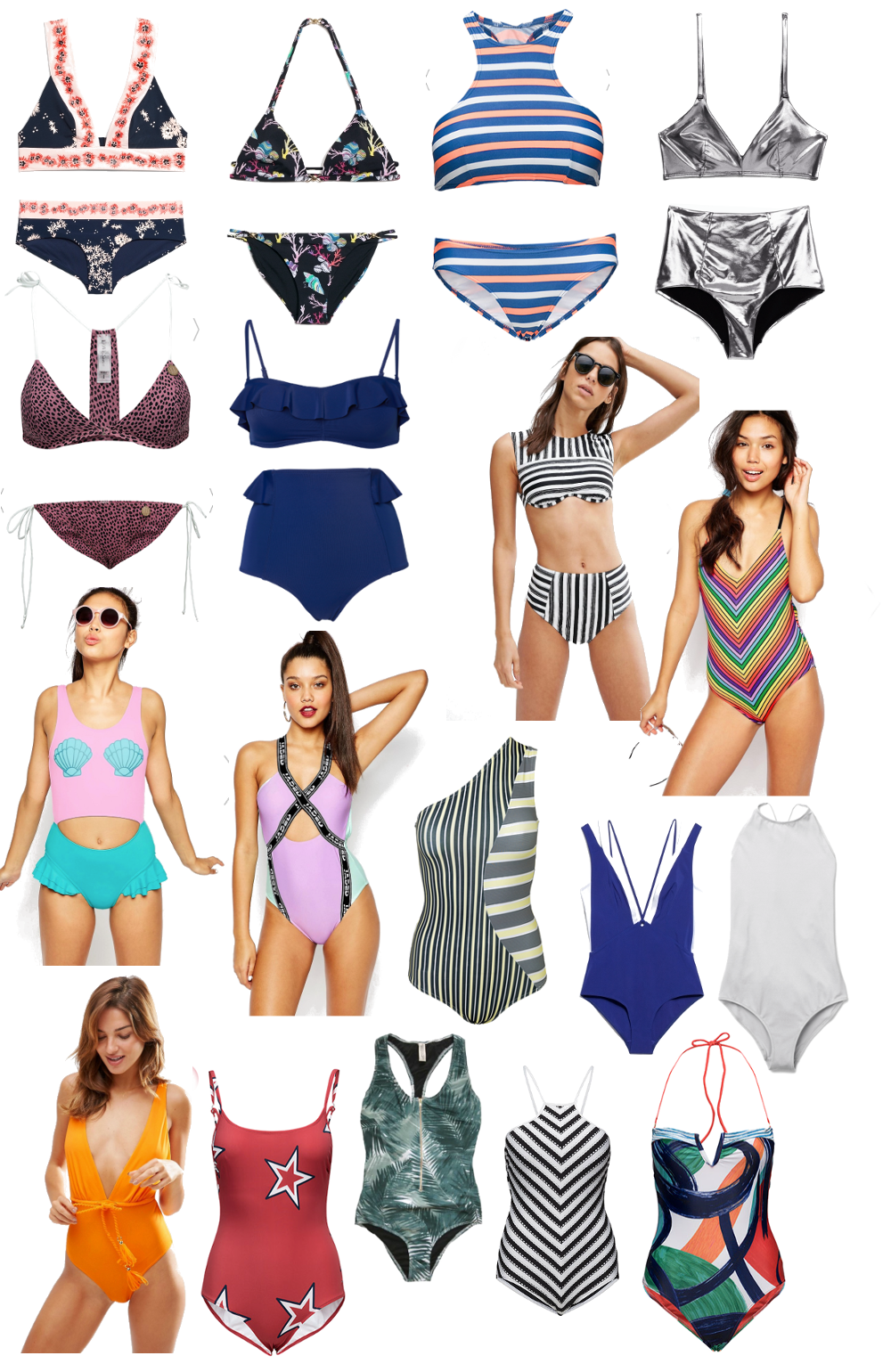 FLORAL BIKINI TOP & BOTTOM, CORAL PRINT BIKINI TOP & BOTTOM, STRIPE BIKINI TOP & BOTTOM, SILVER BIKINI TOP & BOTTOM, PINK DOT BIKINI TOP & BOTTOM, BLUE RUFFLE BIKINI TOP & BOTTOM, B&W STRIPE BIKINI TOP & BOTTOM, RAINBOW SWIMSUIT, SHELL SWIMSUIT, TURQUOISE & PURPLE SWIMSUIT, ASSYMETRIC STRIPE SWIMSUIT, BLUE & WHITE LAYERED SWIMSUIT, WHITE SWIMSUIT, ORANGE SWIMSUIT, RED STAR SWIMSUIT, PALM PRINT SWIMSUIT, CROCHET STRIPE SWIMSUIT, ARTSY PRINT SWIMSUIT
It's summer again and last week I had my first trip to the beach this year. It was a quick bike ride to Svanemøllen beach all alone with a bag full of magazines, books and croissants. The first thing on the agenda was a swim in the blue, whilst a nice girl on the beach offered to look after my things – and my swim in the ocean was amazing!
I'd put on a Monki bikini top with a jungle print, which I unfortunately can't find online, and a pair of simple black bikini bottoms. After my trips to the mediterranean last summer I've begun craving to go swim a lot more and thereby also craving a more nuanced swimwear wardrobe.
I've been all around town but haven't found the perfect swimsuits or bikinis yet, so I went though the internet as well and found a bunch that I'd love to wear this summer. I'm especially hooked on this wonder, which I couldn't find in the shop, and this one isn't bad either. I'm also quiet into this 90's thing, too!
What's your swimwear style this summer?
SHOP SWIMSUITS
[show_shopthepost_widget id="1718540″]
SHOP BIKINIS
[show_shopthepost_widget id="1718543″]